You Are Not Prepared! (But You Will Be!)
The release date of The Burning Crusade has been announced! With the pre-patch arriving May 18, and the release happening on June 1, Classic Warcraft Logs is about to change significantly.
Click here to learn more about the upcoming changes to the site. Regardless of your choice, to move on to TBC or to stay on Classic Era forever, Warcraft Logs has you covered.
There are 3 open polls on the site right now. To participate, log in to your account, and the questions will be available on the front page.
Announcing the Warcraft Logs Companion
We're excited to announce the immediate beta release of the new Warcraft Logs Companion app. The app takes on the functionality of the Warcraft Logs Uploader and goes much further.
Upload your combat log. Analyze your raid. Improve your play. All in game.
The Warcraft Logs Companion allows players to upload combat logs from World of Warcraft, either live during play or after a dungeon or raid. The Warcraft Logs servers will then parse and analyze the log before making it viewable in game. No more tabbing out to view wipes, replay, and ranks.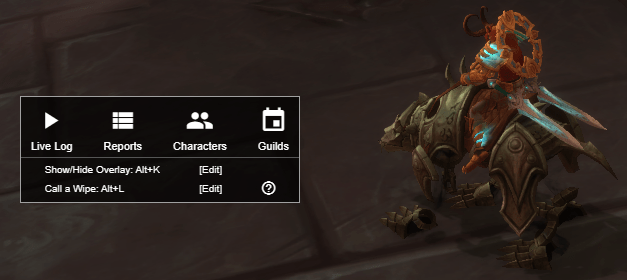 Introduction
Bienvenue à Warcraft Logs, un site Web qui vous offre l'analyse de combat pour le MMO World of Warcraft de Blizzard. Enregistrez vos journaux de combats, téléversez-les et analysez-les en temps réel. Découvrez exactement ce qui a mal tourné et ce que vous devez faire pour résoudre le problème!
TÉLÉVERSEZ. ANALYSEZ. AMÉLIOREZ.
Become a Patron!
Soutenez-nous sur Patreon!
Abonnez-vous pour seulement 1 $ / mois. Les utilisateurs abonnés peuvent parcourir le site sans publicités, peuvent contourner les files d'attente de classement pendant les heures de pointe et empêcher que leurs rapports ne soient supprimés.
Dégâts de Boss / Trash (: rôle)

Dégâts de Boss / Trash (: rôle)

Vitesse (Sans buffs mondiaux)
Dégâts de Boss / Trash (: rôle)
Vitesse (Sans sauts de trash)
Dégâts de boss (Restreint,: rôle)
Boss / Trash Damage (Restreint,: rôle)
Dégâts de boss (Restreint,: rôle)
Soins (Restreint, guérisseur)


Dégâts de Boss / Trash (: rôle)